This whole weekend has been amazing, in that I feel so relaxed. I also feel reconnected to my body. I'm really not sure why? I think it may have a little to do with the fact that I am alone (with carrie of course, who validates my identity) but mainly alone with myself to see myself and feel myself. With little outside "looks" or daily invalidations. It does a lot for this boy's confidence, self-esteem, and anxiety level *sigh*

On the drive up to Luddington Thursday night, Carrie and I got to talking. We talk abut my plans for top surgery this winter often, as I will be able to use my insurance for this purpose after October 10th. And...and our drive I was finally able to articulate a lot of my fears about the surgery which I so badly want and need in many ways. I feel an overwhelming sense of guilt/shame for even feeling so "afrid". I'm afraid these fears are somehow attached to my identity.

I'm afraid of feeling loss
I am afraid of feeling alone
I am afraid of really feeling like I am 'neither' even though i already feel that way. Maybe it is the fear of not having some sort of default...even though I fucking hate it. my body not having any sort of safe space.

i think mostly...the saddest thing...is that I have a deep deep fear of actaully liking, loving my body. I have so much invested in this "not right" feeling. What will it mean to love more of me? What does it mean that I don't already.

I just want to yell at myself and say stop it with the god damn internalized transphobia already. but, alas...I am trying to be gentle with myself. Feel my feelings.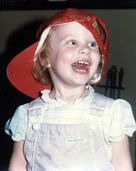 And on a random note: This is me as a kiddo. Yeah, I even had a big mouth back then!